Patient Spotlight: REESE HARRINGTON WAS NOT WALKING AT THE AGE OF 15 MONTHS
Little Reese Harrington was not walking at the age of 15 months, and her pediatrician wanted to know why. An MRI showed evidence of Periventricular Leukomalacia, a disorder characterized by softening of the brain tissue, which leads to the death of the white matter of the brain. There are no specific treatments for PVL, only symptomatic and supportive interventions.
Babies with PVL are at risk for motor disorders, delayed mental development, coordination problems, and vision and hearing impairment. In Reese's case, she demonstrated left-sided weakness, head to toe, including her facial muscles, and visual impairment. Reese had already been doing Early Childhood Intervention (ECI), but after her diagnosis, Reese's parents, Amanda and Mark Harrington, began bringing her to therapy atWestTexas Rehabilitation Center. Reese was immediately fitted with braces, and three months later, at 18 months, she began walking. Over the four years she has been in therapy, the orthotics have diminished in size. Today she wears inserts inside her zip-up pink ankle-high Billy Footwear.
Reese reports once a week for what she calls her "work-out day" atWestTexas Rehab. On rehab days she has one hour of physical therapy, followed by an hour of speech-language therapy and a half-hour of occupational therapy.
Lindsey McMillan, Director of Pediatrics and Reese's physical therapist, has created many therapeutic activities to address Reese's needs. In one of them she has laid out an S-shaped course on the floor and given Reese the task of maneuvering from one side of the course to the other on a Scoot About while carrying one object at a time to dress Mr. and Mrs. Potato Heads. Lindsey has set up cones, which Reese must avoid, if she doesn't want to do "push-ups." But even the kneeling push-ups are fun.
"Girl, you owe me about forty push-ups," Lindsey says playfully at one point of the activity. One activity gives way to another – playing hopscotch and climbing stairs. Activities vary with each session.
"The brain is such an amazing organ," Lindsey says. "We use the term neuroplasticity when talking about the brain and its ability to make changes. I like to describe this as the brain being 'moldable,' meaning we can reshape it to work in a different way. When injuries to the brain happen at an early age, we have a bigger window of opportunity to make these changes. With the right interventions, the brain can sometimes 're-wire' itself when certain motor pathways are disrupted from the brain injury." "Reese has made tremendous progress over the years, and I have loved watching her grow into her own little person," Lindsey adds. "She has progressed to a point where it is much less obvious to see her physical deficits. At this point, we are focusing her treatment on goals to be more independent with higher level balance skills, including walking on changing or uneven terrain and being able to run, jump, and play with her siblings and peers. This will be important for Reese as she begins kindergarten in the fall."
"West Texas Rehab has been extremely important," Amanda says. "Without them, Reese wouldn't have made so many gains. We started early, and everyone has helped her so much." In 2016, Reese was diagnosed with CorticalVision Impairment. Her eyes were healthy; however, her brain was not relaying what her eyes were seeing. She had 20/100 in her right eye and 20/200 in her left eye. Over the last three years, with the work of her vision specialist and herWestTexas Rehab therapists, she has made significant improvement.
"When her vision was tested in May of 2019, both eyes were seeing 20/45," Amanda says. "She no longer has CVI. God is good and so are Reese's therapists!"
"West Texas Rehab and its staff have been a true blessing for our family, " Mark notes. "We are forever grateful for the hard work and compassionate care that Reese has been given. Reese has not only had great advances in her motor skills and vision but has also been engrained with a very strong work ethic as a result of her weekly therapy sessions. Her mother and I started a mantra with Reese and her sister, Charley, at a young age that is stated each and every morning: "I'm smart, I'm beautiful. I am not better than anyone, no one is better than me. I work hard, be strong!"
Reese began kindergarten at Miles ISD this past fall. She has the full support of her mother, Amanda, who is a certified special education teacher, her dad Mark, who gives back toWestTexas Rehab by serving on its Board of Directors, her siblings, Charley and Smith, and the entire team at WestTexas Rehabilitation Center. After all,West Texas Rehab has taught Reese how to maneuver the S-curves of life. That's just one of the many good things happening here every day!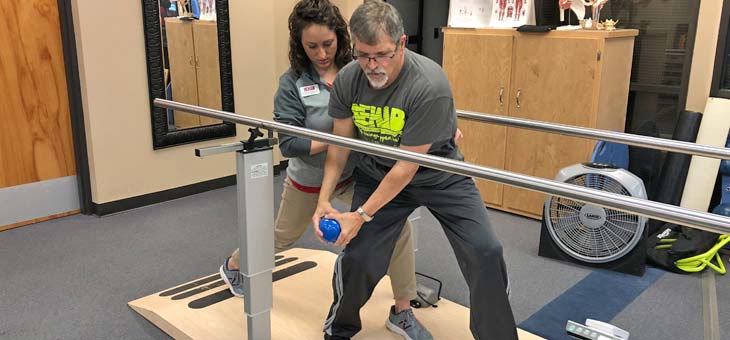 Honorarium Donations
Set up a one-time or establish a recurring donation
We provide quality care regardless of the patient's financial status, distinguishing us from other providers.
Donate Now