Dennis Cavitt is a special education professor who has often advocated for the work of West Texas Rehabilitation Center. Volunteering alongside his students at pediatric events such as Camp Rehab, Dennis has become a part of the West Texas Rehab family. His daughter, Amelia, recently started working at West Texas Rehab, and once Dennis heard of her new opportunity, he told her, "WTRC is a place of hope! You will love it!" This family truly experienced the hope found at WTRC just a few months later.
On February 16, 2018, Dennis had a stroke in the pontine area of the brain that affected his third cranial nerve and resulted in vision and balance issues, along with left side weakness. It was a terrifying experience as the doctors were not sure he would ever regain his functionality, or proper vision. The Cavitt family as a whole felt very helpless, as life for them seemed to drastically change overnight. They felt like they were clueless of what to do next, but one thing was for sure, Dennis was going to start treatment as soon as possible.
Since Dennis was already familiar with the services offered at West Texas Rehab it was an easy decision when he was asked where he would like to seek treatment. Dennis said, "It's sometimes scary seeking treatment, especially if it's for something traumatic like a stroke." But once he and his wife Becky began coming to the appointments, they saw there was nothing scary about it. "From the moment you walk through the door at WTRC you are put at ease. The therapists walk alongside you as you face each challenge on the path to recovery," said Dennis. Kelsey Walker, one of our physical therapists began treating Dennis and helping him face each challenge. Dennis' wife Becky says, "Kelsey takes the time to explain each therapeutic treatment and how it addresses the issue, but she also takes the time to really listen. She is patient focused." Kelsey walked Becky through the at-home exercises, so she would be able to work with Dennis between each appointment.
Kelsey said, "Dennis received skilled physical therapy services for three months following an ischemic stroke. In his time spent at WTRC he made an outstanding recovery, as therapy helped to restore his coordination, motor planning ability, strength, balance, functional mobility (transfers) and gait. On day one of therapy, he entered the clinic on a walker and with additional assistance from his wife, Becky, to aid with walking and prevent falling, and fast-forward three months to his final day in therapy, I couldn't even keep up with his brisk-paced walk! By the time of discharge from outpatient therapy, he had returned to independent community ambulation, teaching at the university and resumed heavy activities around his home."
Over the course of his treatment, Dennis knew he would benefit most if he gave the treatment his all, and trusted the knowledge of his therapist. He never lost hope, and said,"This is an amazing place because it provides hope. Every time we come that hope is renewed. Every time! The people are amazing, positive, competent, caring, compassionate, and energetic." Kelsey said, "Much of Dennis's outstanding recovery is a testament to his incredible work ethic while in the clinic, but also his dedication to prioritize rehab during his own time spent away from the clinic. He spent several hours each day at home working on his assigned home exercise program, and would return to each therapy appointment with excitement to show his improvement since the previous therapy session. It was an honor and great pleasure to be able to work with Dennis, and be able to witness his progress over the course of his three months spent at WTRC!"
Becky and Dennis are preparing to move, which a few months ago seemed impossible. Thanks to the treatment, hope and recovery they found during their time at West Texas Rehab, they are able to start this new adventure with confidence and excitement for the future ahead of them. Dennis said it best, "I love your motto... great things happen here every day... so true!"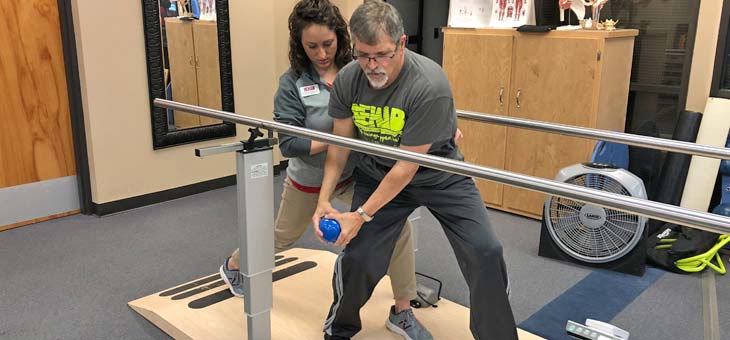 Honorarium Donations
Set up a one-time or establish a recurring donation
We provide quality care regardless of the patient's financial status, distinguishing us from other providers.
Donate Now