Location: Abilene Convention Center, 1100 N. 6th

, Abilene, TX 79601
Thank you to everyone who made our 2019 Rehab Telethon & Auction a HUGE success! We went off the air at midnight having raised $1,270,607 for our patients! Thank you to all who made donations and help to continue the legacy of "Great Things Happen Here Every Day!" Special thanks to all of our sponsors, Capital Farm Credit, Black Plumbing, Maverick Saw Cutting & Core Drilling, RHS Construction Services, NTS Communications, Decker Capital Partners, Visiting Angels, and KTAB!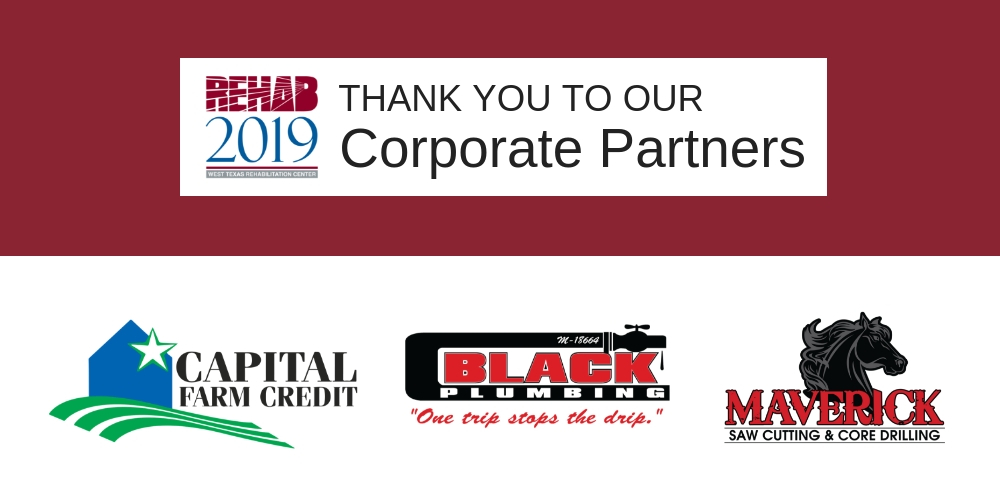 Please join us for the 49th Annual Rehab Telethon! The telethon and auction raises more than one million dollars making it possible for the West Texas Rehabilitation Center to serve more than 650 patients each day regardless of their financial circumstance. We are pleased to announce that Country Music Hall of Famer, Ricky Skaggs, will be joining us along with Nashville's hottest new trio, Runaway June!
Rion Paige, of X-Factor Fame will be joining us again this year to sing
Charlie Chase, longtime co-host of the popular "Crook and Chase" talk show on the Nashville Network will return to anchor the Rehab 2019 host desk.
ESPN Rodeo reporter and Wrangler representative Jennifer Douglas Smith and Abilene native Braid Blanks will be live with our patient stories and interviews from stage.
Texas legend and cowboy poet, Red Steagall, will be back along with The Boys in the Bunkhouse.
"Regulars" lined up to appear are Brad Maule (General Hospital) and Twyla Foreman.
Television stations in Abilene, San Angelo, Corpus Christi, Midland/Odessa, Lubbock, Amarillo, Waco/Temple/Bryan, & Lawton, OK carry the show live.
The show will again be streaming live at WestTexasRehab.org.
Special activities will be set up for kids in the foyer area of the Abilene Civic Center.
Our friends Red Chain Feed will be selling BBQ sandwiches in the exhibit hall.
REHAB 2019 is engaging social media, Facebook and Twitter, like never before. We have a special hashtag that we would like you to use when you post about REHAB 2019. It is #WestTexasRehab. Our Instagram is westtexasrehab, our Twitter handle is @WestTXRehab and our Facebook page is West Texas Rehab Center.

In addition to the telethon, an annual internet auction of merchandise and services provided by friends and businesses will be open and taking bids on the Handbid app. Bids will be accepted until midnight on January 19th. Auction items will be on display at the Abilene Civic Center beginning at 6 pm on the 19th. Don't have the Handbid app? Begin bidding here !

There will be over 400 items in the online auction with a retail value of over half of a million dollars….with over 19 categories.

An auction television show featuring all the items airs in Abilene and San Angelo from 5:30 to 7 on the night of the telethon. The online auction ends at midnight on the 19th. Thank you to KRBC/KTAB in Abilene and KLST/KSAN in San Angelo for being our television sponsors.